DIRECTOR - the Modular Surround Controller

The Director Surround Controller System includes every feature required for 5.1 handling. It can be used to upgrad a stereo mixing desk or as a stand alone surround mastering system as well. Director offers excellent analog audio quality and is modular and expandable. Designed primarily for the needs of surround sound production, the surround controller will provide complete panning, routing and control of all formats up to, and including 5.1 for any console or DAW system.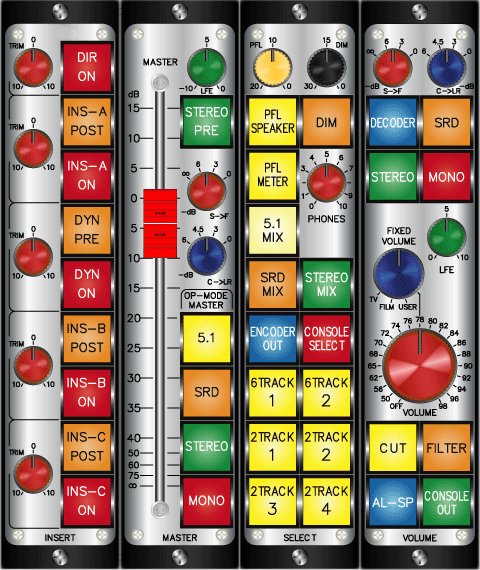 In combination with the 5.1 Direction mixer DIMENSIONS, and the 5.1 dynamics processor DYNAROUND, the unit can form the complete controller and mastering solution for all audio formats up to and including 5.1.

The surround controller can be used for the extension of an existing stereomixer or DAW system to provide 5.1-format mixes, or used as a stand-alone mastering console with complete routing and monitor control features. The unit has two main elements, a 9U main rack that contains all input, output and routing, all operating elements are constructed as modules that are inserted into the main frame. The second element is the remote rack that provides total control of all features. All of the control elements are 190x40mm modules; the remote rack can be inserted into most mixers. Alternatively, installation into a small mixing desk housing is possible. In connection with the adt-audio V700 audio modules , complete custom mixing arrangements can also be constructed, with DIRECTOR as the heart of the console. Additional inputs can extend the controller to provide extended mixing capabilities. The monitor path can be fitted with optional switch and filter functions and additional monitor outputs. Interfaces for external extensions exist for both the monitoring and the audio master chain. There are also special connections to integrate the monitoring, PFL and DIM functions of the existing mixer.


Block Diagrams:
Master Chain

Input Section

Insert Section

Insert Stage 1

Insert Stage 2

Master Fader

Matrix Section

Output Section

Control Room

Source Select

Input Section

Meter Section